On March 15th, the groundbreaking ceremony of the first quarter major projects of Dalian High-tech Zone and Youxun 5G optoelectronic device development and industrialization project was held at the construction site of Youxun Optoelectronic Information Industrial Park on Huohuo Road, Qixianling. This indicates that Dalian High-tech Zone will fully implement the new development concept and set off a new upsurge of high-quality development. This is the China Economic Herald reporter in the centralized construction site interview to understand.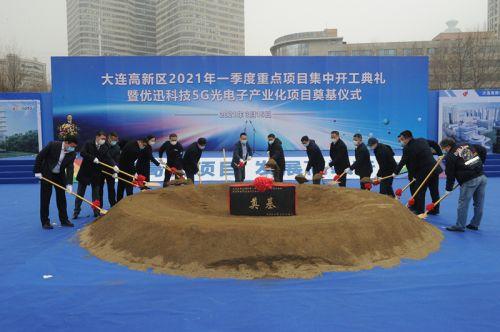 According to reports, the 5G optoelectronic industrialization project laid a foundation on the site with a total land area of 18,998.04 square meters and a total construction area of 46,820.98 square meters, with a total investment of 560 million yuan, invested and constructed by Dalian Youxun Technology Co., Ltd. The project mainly carries out the research, development, design, production and sales of high-end semiconductor optical devices in the field of optical communication and optical sensing, and provides core components for the construction of new infrastructure of national 5G network and data center. "Youxun Technology" has formed a core technology system through independent research and development and continuous accumulation in the structural design and manufacturing process field of high-end optical devices. The technology in the design and manufacturing of optical devices has reached the leading domestic and international advanced level, and has been authorized more than 50 patents. The project plan in dalian high-tech zone to realize industrialization of high-end optical devices, optoelectronic information industry, and attract upstream and downstream enterprises gathering high-tech zone, the formation of optoelectronic information industry base of upstream and downstream of the materials, equipment, terminal application industry cluster of mutual integration, cultivate new economic growth point in the zone, has become an important platform for industrial upgrading in the zone.
It is reported that in the 10 major projects with a total investment of 6.4 billion yuan, 5 of them are industrial projects, with a total investment of 2.93 billion yuan, accounting for 45.8%. These projects have high scientific and technological content, high industrial level, good market prospects and strong driving effect, which fully reflect the "high and new" characteristics. Youxun Technology, Hualu Zhida, Jiu Cheng General, Liaodenrhenium Metal and other projects are full of science and technology content. The projects cover new optoelectronics, electronic information, aerospace, new materials and other fields, which fit the "1+6" industrial development direction. After the project is completed and put into operation, it is expected to achieve an annual output value of more than 4 billion yuan and gather more than 3,000 scientific and technological talents. In 2021, the high-tech zone will have 101 projects with an investment of 5 million yuan or more, with a total investment of 97.4 billion yuan. In the first quarter, 65 projects will be resumed, with a total investment of 37.4 billion yuan.